Every bride dreams of having a breathtaking hand bouquet on her wedding day. This beautiful arrangement of flowers not only adds a touch of elegance and romance to the overall look but also holds a special meaning and symbolism. With countless options and styles to choose from, finding the perfect bouquet can be a bit overwhelming. To make it easier for brides-to-be, we have curated some of the most stunning hand bouquets that will surely leave you breathless.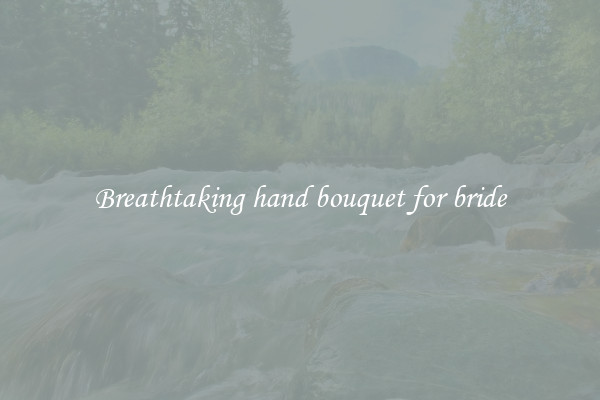 One of the classic choices for a hand bouquet is a cascading bouquet. This style features flowers that flow downwards, creating a waterfall effect. It is the epitome of traditional elegance and is perfect for a formal and sophisticated wedding. A cascading bouquet typically incorporates long-stemmed flowers such as roses, orchids, and lilies, and is often accented with cascading greenery like ivy or ferns. This timeless bouquet style will make any bride feel like a princess walking down the aisle.
For brides who prefer a more modern and unique touch, a round bridal hand bouquet is an excellent choice. This style features a compact shape and is perfect for brides who want their flowers to make a bold statement. The round bouquet can be made with a variety of flowers, such as peonies, ranunculus, and anemones, and can be customized with ribbons, pearls, or brooches. This style is versatile and can fit any wedding theme, from a boho garden wedding to a sleek and contemporary affair.
Another mesmerizing option for a hand bouquet is the romantic and ethereal wildflower bouquet. This style embraces the beauty of imperfectly perfect blooms and flowing greenery. Wildflower bouquets are often composed of a mix of delicate flowers such as daisies, cornflowers, and baby's breath, and are tied together with rustic jute or lace ribbons. This bouquet style is perfect for a relaxed and whimsical outdoor wedding, adding a touch of natural beauty to the bride's ensemble.
For the brides who love a touch of glamour and opulence, a jeweled hand bouquet is the ultimate choice. This bouquet style features flowers adorned with crystals, pearls, or brooches, adding a sparkling touch to the arrangement. Jeweled bouquets are often made with roses, hydrangeas, or calla lilies and can be customized to match the bride's wedding jewelry or theme. These bouquets exude luxury and are perfect for a lavish and extravagant wedding celebration.
In conclusion, selecting a breathtaking hand bouquet for your wedding day is a crucial decision. Whether you prefer the traditional elegance of a cascading bouquet, the boldness of a round bouquet, the natural beauty of a wildflower bouquet, or the luxury of a jeweled bouquet, there is an option that will make you feel like the most beautiful bride in the world. Remember to choose a bouquet that not only complements your wedding theme and dress but also holds a special meaning and captures your unique personality. Your hand bouquet will be a stunning accessory that accompanies you down the aisle and throughout your special day, creating unforgettable memories.